FIAT Schools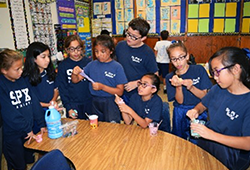 "As the administrator of FIAT Catholic schools in the South Bay Region of San Diego, I was delighted to learn that an anonymous donor at the Catholic Community Foundation of San Diego stepped forward to match new endowments established by K-8 Catholic Schools throughout the diocese.
FIAT exists to provide a quality Catholic Education through a collaborative team of eleven Catholic Parishes and six K-8 elementary schools. Generous donors throughout the South Bay seeded each of the six schools with a $5,000 gift to establish a new endowment fund for the six schools as part of the FIAT annual appeal known as Blessing our Future. In turn, the Catholic Community Foundation, through its anonymous donor, matched their $30,000 with another $30,000.
These new endowments will be help our schools for many generations in the future. We are grateful to our donors and to the Catholic Community Foundation for helping to secure a long-term future for children attending the six FIAT schools. May God continue to bless all CCFSD supporters for your heartfelt generosity."
- Steve Stutz, FIAT Catholic Schools Administrator